Wang Quanzhang – One Victim of Crackdown on Human Rights Lawyers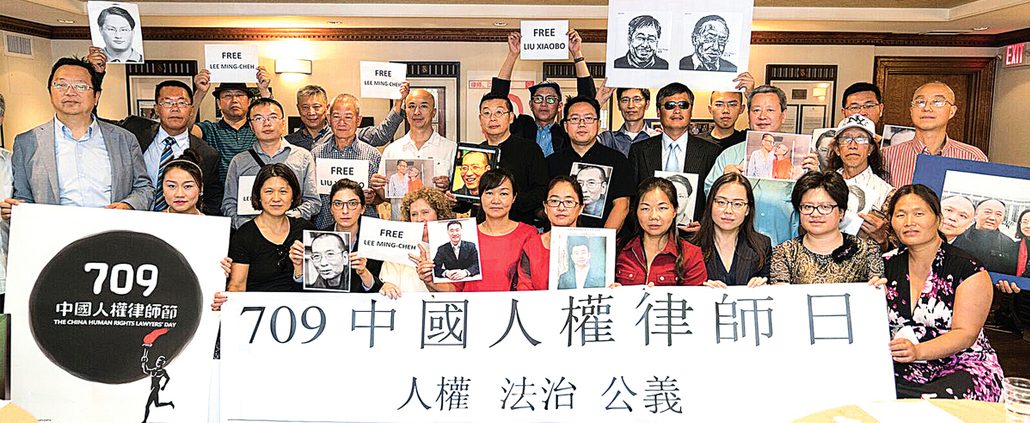 August 2015, Wang Quanzhang was arrested by the Chinese police. He became another victim of the 9th of July crackdown on human rights lawyers in China.

The Vanished Husband and Father
He was not the only one. That summer, there were more than 200 lawyers, legal assistants and human rights activists arrested and brought to trial.
However, Wang Quanzhang was the only lawyer who was still not found after two years.
"I don't even know if he is still alive," said Li Wenzu, Wang Quenching's wife. "I didn't get any news about him. He was like, vanished from the earth. It is horrible and barbarous."
July 2015 was possibly the worst nightmare for some people in China. From the 9th day of July, hundreds of lawyers, legal assistants, non-governmental human rights activists and their family members, petitioners had been arrested, summoned to courts and kept in custody. Some of them were missing. This event was called "709 Crackdown" on the internet.
Some of the people who had been arrested were charged with "trying to subvert state power". They were sentenced to jail time from 6 months to 7 years.
Some of them were sentenced to probation or bailed out. But they were still under monitoring.
Wang Quanzhang was the special one among all them. His family only received a short notice that said: "Wang Quanzhang has been arrested." Besides this, it was like he vanished into a black hole.
"During the past two years, he wasn't allowed to talk with the lawyer he hired, or contact anyone outside of the jail. They took away all his rights," said Wang Quanzhang's wife.
According to some unsubstantiated news, some lawyers were abused during the custody. They were forced to take medicines, handcuffed, beaten up or asked to maintain uncomfortable sitting poses for long periods of time.
Due to this reason, in the human rights lawyers' supporters' opinion, even if the lawyers confessed on the courts or in front of the national media, the confessions weren't true.
BBC Chinese interviewed Wang Quanzhang's wife. In the interview video, she talked about how her husband had been missing for two years, and all her fears.
"It was such a scary thing to happen to my family. He (Wang Quanzhang) just disappeared all of a sudden without any explanations or news. It was cruel.
During these two years, I have been trying to hire a lawyer for my husband. However, they (Chinese police) didn't allow him to meet the lawyer. They took away his rights to contact other people. They took away all his rights."
When asked if it was a sign that the government saw his case as a more serious one compared to others, she said, "In my opinion, perhaps my husband Wang Quanzhang, didn't show any willingness to give in. I heard from people who were involved in the 709 Crackdown that they (Chinese police) treated the suspects in a horrible, cruel way. Most of them were abused during their custody. I'm mostly worried about my husband's health situation."
Wang Quanzhang's wife worked with other wives of the lawyers who were arrested during the 709 Crackdown. They worked together to protect their civil rights. However, even when almost every case that happened in 2015 had been worked out, there was still no news from Wang Quanzhang's side.
"I live with another involved lawyer's wife for a month. My son has become friends with their daughter. He often asked me, 'My friend's daddy came home already. Where is my daddy?' This incident has impacted my child in the worst way."
"I really want to know about my husband's health situation. Did he become disabled after all the cruel torture? Or even worse, did he die already?" said Wang Quanzhang's wife in the interview.
It wasn't the first time that Wang Quanzhang faced a stressful situation. A few years ago, he defended some human rights activists. He was already on the list.
Li Heping was another human rights lawyer affected by the 709 Crackdown. He was sentenced to jail time of three years, with four years of probation. He worked for Beijing Global Law Firm. Like Wang Quanzhang, he also accepted cases which were sensitive, cases that many other lawyers were unwilling to touch in mainland China. For example, he had defended Christians, Falun Gong adherents, well-known dissident and human rights attorney Gao Zhisheng, as well as blind activist Chen Guangcheng.
Wang Qiaoling, Li Heping's wife, was working with Li Wenzu, Wang Quanzhang's wife. On December 29th, 2017, they went to the Supreme Court of China and tried to submit an indictment about appealing to release their husbands. They were taken away when they arrived at the security check outside the court. Then Li Wenzu was pushed out from the court and separated from Wang Qiaoling. She recorded the whole thing that she was stopped from entering the Supreme Court and uploaded to Twitter.
"How could a citizen be missing for almost 1000 days without any news?" Wang Qiaoling questioned on Twitter after the incident.
Yang Jianli was the founder of NGO "Citizen Power" located in Washington D.C… He said in an interview regarding Wang Quanzhang's case, "There were thousands of victims in the 709 Crackdown. However, Wang Quanzhang was the only one who didn't have any news yet. Everyone was confused, yet worried about him. We have been following up on his case and we will do our best to support his family."
Li Wenzu never stopped trying to get in touch with her husband. When she learned that Wang Quanzhang was locked up in the First Detention House in Tianjin, she started to try to send in money and other life supplies. It wasn't easy. The police officers purposely made it very difficult for her.
"We went to the First Detention House in Tianjin yesterday morning. The police officer on duty told us, we can only send in money and life supplies when the permission was sent to them. After a phone call, they agreed to accept the money and things. However, they rejected our request of getting a receipt from my husband to make sure he received all the things we gave him." said Li Wenzu.
"My husband Li Heping told me that he had waited for a whole year to receive the money and life supplies I sent to him," said Li Qiaoling. "We were worried that Wang Quanzhang couldn't get the winter coats we sent him. How could he make through the winter without winter clothes?"
On December 7th, 2017, Li Wenzu said on Twitter that her husband had never been treated properly in the detention house.
Li Qiaoling said, "It has been 2 years and 5 months already. They won't let him meet his lawyer. They won't even give him a trial or judgment. They even purposely set up difficulties for his family members on sending in money and stuff."
Why Lawyers?
May 2015, Xu Chuihe was shot to death in a waiting room in Qingan Railway Station during a conflict with a local police officer. There were 20 citizens showing their support to the victim. A few human rights lawyers provided their legal assistance to the victim's family. They were all arrested by Chinese police. After their arrests, some human rights lawyers published the biggest joint statement in the history. More than 600 lawyers signed the statement to show their support.
This incident was considered as the trigger of the 709 Crackdown. It was also a signal that the Xi Jinping's government was getting more and more intolerant of dissidents.
Jerome A. Cohen, a professor at NYU School of Law since 1990 and Faculty Director of its U.S.-Asia Law Institute, was a leading American expert on Chinese law and government. A pioneer in the field, Professor Cohen began studying and teaching about China's legal system in the early 1960s. He knew a few lawyers who had been arrested in the 709 Crackdown.
"They were pioneers. They were the ones who walked towards the public. Lots of lawyers worked within the limits the party set for them. However, they also felt the same pressures. They paid attention to how those pioneers were cracked down on. Of course, it deterred lots of people. This was what the party wanted: lawyers who followed." said Professor Cohen.
In China, using the constitutional power on the court was considered liberalism. Xi Jinping once said that it would harm the domination of the Chinese Communist Party.
Based on the current situation, the Chinese government wanted the lawyers to stand at the side of "rule by law". Apparently, the government itself didn't want to be following the rule of law.
Those lawyers who were arrested had been constantly accepting cases which were considered politically sensitive. They also appealed for the separation of the legal system and the power of the Chinese Communist Party.
"The Chinese Communist Party needed lawyers to ensure economic development. But the party also needed the lawyers to be like dentists and technicians. I respect the dentists. But I don't expect the dentists to lecture me about values of society." Said Professor Cohen. "In conclusion, this was what the Chinese Communist Party wanted to do. And they were doing it in an extremely cruel way."
What Did the Media say?
Multiple media (Chinese and non-Chinese) commented on the 709 Crackdown. The Globe-Times said the blame for the 709 Crackdown from the overseas groups were hurting Chinese citizen's feelings. "Arresting the trouble causing human rights lawyers will make China a safer place."
Liberty Times, a newspaper in Taiwan, published an article written by You Yingfu appealing for the protest of Taiwan lawyers regarding the 709 Crackdown.
The News Lens thought arresting human rights lawyers is "Red Terror".
The Taiwan International (website) defined the event "Preventive Crackdown".
What were the comments regarding the 709 Crackdown?
Wang Yong, a profession of China University of Political Science and Law, gave a speech at the graduation ceremony of the year 2016 to support the victim lawyers in 709 Crackdown. China University of Political Science and Law was the alma mater of many human rights lawyers and legal assistants.
"Your Alma Mater will watch over you when you are fighting for justice for all people." Wang Yong said so in his speech.
The speech had been trending for days on the internet before it was deleted. People can barely find any information about the 709 Crackdown on the Chinese websites.
"Hopefully it won't become another Tiananmen Square in 1989." said an anonymous internet user.
"In a Chinese family, the younger generations are not allowed to challenge the authority of their parents and grandparents or other older relatives. We have been educated that the nation was like a big family. The leaders are our parents, and nobody shall challenge them, including the lawyers." said an anonymous Chinese law school student.
"What the Chinese government has done made many outstanding human rights lawyers leave their motherland. It harms the developments of human rights in China, as well as its legal system." Profession Cohen thought the logic of 709 Crackdown would not relieve the stresses that the Chinese government was facing. And it would also bring more dissidents and anger from the citizens.
The crackdown also refreshed some people's memories about the Cultural Revolution. Until 1979, the People's Republic of China and the Chinese Communist Party organized Soviet-style police and people's courts to address petty crimes and local disputes, but their primary responsibility was to enforce absolute loyalty to the party.
Guo Baosheng was a political commenter and priest. He said, "The 709 Crackdown reminded me of the mass rally in the Great Cultural Revolution. It could only be dangerous since it was in a disguised form of legal system. The Chinese government used this method to erase all the disagreement. But everyone knew the praise was not real."
Summary
Article Name
Wang Quanzhang - One Victim of Crackdown on Human Rights Lawyers
Description
August 2015, Wang Quanzhang was arrested by the Chinese police. He became another victim of the 9th of July crackdown on human rights lawyers in China.
https://whoisfuckedinchina.com/wp-content/uploads/2018/03/lawyers crackdown/people protesting the crackdown on human rights lawyers.jpg
686
1030
lighting
https://whoisfuckedinchina.com/wp-content/uploads/2018/02/Website-Title-logo-450-373.png
lighting
2018-03-22 17:02:52
2018-03-26 07:39:53
Wang Quanzhang – One Victim of Crackdown on Human Rights Lawyers