China Tightening Internet Curb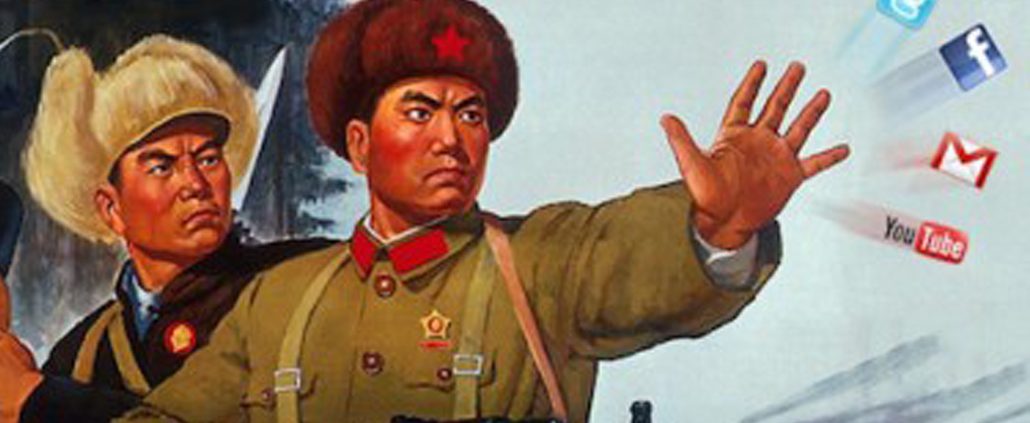 In December 2017, Wu Xiangyang, a network engineer in Guangxi, was arrested and sentenced by the Chinese authorities for selling equipment that could break the Chinese government's notorious Great Fire Wall a.k.a GFW. It represented China tightening internet curb again in a more extreme way.

The incident once again triggered Chinese netizens' concerns about the Chinese government's online review. Issues concerning freedom of speech on the Chinese Internet have also become a hot topic. Internet users on Twitter said, "Without saying free information, the Great Firewall has seriously hampered the normal development of Chinese companies."
Breaking through the Network Blockade: Competition between Netizens and the Government
As of 2017, the number of Chinese netizens has reached 731 million. To filter news that is unfavorable to the authorities.
In February 2018 Xi appeared to set in motion a process to scrap term limits, allowing himself to become ruler for life. To suppress criticism, censors banned phrases such as "Disagree" ), "Shameless," "Lifelong," "Animal Farm," and at one point briefly censored the letter 'N.'Li Datong, a former state newspaper editor, wrote a critical letter that was censored; some social media users evaded the censorship by posting an upside-down screenshot of the letter.
On 13 March 2018, China's CCTV incidentally showed Yicai's Liang Xiangyi apparently rolling her eyes in disgust at a long-winded and canned media question during the widely-watched National People's Congress. In the aftermath, Liang's name became the most-censored search term on Weibo. The government also blocked the search query "journalist in blue" and attempted to censor popular memes inspired by the eye-roll.
The authorities will review the comments of netizens and related websites through various means. The most common one is through the Great Fire Wall (GFW).
Blocking the website, since 2002, China has used Fire Wall to conduct rigorous online censorship of a large number of websites so that users in mainland China cannot log in to these websites. Chinese Internet users call the Great Wall of Fire Protection a "wall."
To deal with the blockade of the Great Firewall, Chinese Internet users will break through the network blockade through outbound servers. Some experts believe that the main users of VPNs are Chinese education elites and foreigners who need to get in touch with the outside world.
The "Open Network Promotion Association" jointly organized by Harvard Law School, Cambridge University and the University of Toronto published a study on China's cyber blockade. The report said: "China's network filtering system is the most developed in the world. Compared to other similar systems in some countries, China has a wide range of network filtering, meticulous techniques, and significant results. The entire system includes multiple levels of legal restrictions and technical controls. Involving many national agencies, as well as thousands of government employees and corporate employees."
Qiao Mu, an associate professor of media at Beijing Foreign Studies University, believes that China's increasingly stringent control over the Internet will only force some groups of Internet users who did not want to get involved in politics to take to the streets and promote the collapse of the government.
Foreign Companies in China Are Affected
This move also affects foreign-funded enterprises in China. Overseas media reports that with China's recent tightening of supervision over VPNs, it has become more difficult for some multinational companies to "surf the wall" for foreign offices in China and embassies in China.
The "Financial Times" website reported on January 16 that many multinational corporations' offices in China used VPN to bypass China's Internet surveillance, landed on shielded websites such as Google, browse uncensored news, and used the Chinese government. Prohibited foreign email and file sharing platforms.
However, with the recent tightening of supervision by the Chinese authorities, five multinational companies and organizations have told the newspaper that their offices in China have been affected by the Internet in recent months. A U.S. non-profit organization and a British company said that their virtual private network was blocked and their daily business was affected. Another Fortune 500 company in the United States stated that in recent months it has become more and more difficult to access websites blocked in China from Beijing offices using its virtual private network.
The chief executive of a U.S. technology company said that the company's office in China was forced to abandon the use of a virtual private network, and employees switched to the more expensive mobile phone SIM card to access the Internet. Fearing that customers are aware that their operations have been affected, these companies and organizations are reluctant to disclose their names.
The Ministry of Industry and Information Technology of China issued a notice in January 2017 stating that it is conducting a cleanup and standardization work on the Internet access service market nationwide, and it must not establish or lease a dedicated line to conduct cross-border business activities without the approval of the telecommunications authorities. The clean-up will continue until March 31, 2018.
The report said that while cracking down on private virtual private networks, Chinese authorities are pushing multinational companies to purchase and use officially approved virtual private network services. Officially approved virtual private networks can cost tens of thousands of dollars per month, and the user's communications are also subject to official supervision.
In a telephone interview with the reporter on January 16, Xie Jiaye, president of the US-China Cultural Exchange Association in New York, commented on this.
"I believe that these economic activities and the normal operation of the company should not be interfered with. As long as it does not engage in illegal activities, you should not turn off their VPN, and should allow them to carry out effective company operations. ."
The Financial Times quoted Jake Parker, vice chairman of the US-China Business National Committee, as saying that many U.S. companies including finance, technology, and services reported to the committee that their offices in China use virtual private networks, e-mail, and file sharing.
The features have been affected. According to reports, the EU sent a letter to the Chinese government in December last year complaining that the two European embassies in China had their virtual private networks cut off. According to the Vienna Convention, free communication between the embassy and the home country should be respected.
Xie Jiaye said to this: "Foreign companies are the same. Then Chinese companies need not talk about it. It certainly will be affected by this. China's officials may have some officials who are too sensitive to political issues and even have some economic activities. All must go to monitor."
The "Internet Freedom Report 2017" released by the "Freedom House" of Washington, a think-tank in the United States, last November named China as the country with the most serious violations of cyber freedom.
Apple China Store a Large Number of Applications Were Removed
According to the FT Chinese website, at the request of the Chinese government, Apple has taken off hundreds of applications from China's app store. According to sources, Skype is the latest US communications service that suffered in China's Internet remediation operations.
Skype's cancellation shows that following the Chinese government's recent measures to strengthen the Great Wall of Fire protection against VPNs that help users surpass the wall, Beijing is now stepping up its efforts to crack down on foreign Internet telephony services.
There are a few applications stores in China, including the Apple App Store and the application store run by Android phone manufacturers such as Xiaomi. Existing Skype users in China are still able to make calls using this service.
A spokesperson for Microsoft told the New York Times, the first to report Skype's offense, that the application has been "temporarily discontinued," and Microsoft is "trying to get the application back online as soon as possible."
The number of VPN applications that Apple has removed from the App Store is more than twice that of last year. According to Apple, the reason for the previous application was that both those applications violated Apple's technical requirements or guidelines for protecting users from fraud, and they also had legal requirements.
Despite this, this move may make Chinese app developers more and more uneasy, and two groups of Chinese developers have initiated legal proceedings against Apple on the grounds of discriminatory treatment. Earlier this year, Apple had stated that it would set up its first iCloud data center in China; Apple tried to comply with China's cybersecurity regulations and also provided better Internet services for users in the region.
Apple withdrew its application from the China App Store to allow users to bypass the "Great Wall of Fire" in China. The application developer denounced Apple's move as self-censorship.
The Silicon Valley company has taken off its VPN application from the China App Store. Apple is withdrawing all applications that do not comply with Chinese law from the store, even if the application developers are outside China.
VPNs allow users to access Chinese content that is restricted by their censor. This restriction creates a "Chinese Internet," with a small number of Western social media or engines within the network.
A Man Sold "Cross the Wall" Software Sentenced to 9 Months
At present, the Chinese government does not have clear legal requirements for personal use and trafficking of broken net tools, but there are still some people who have been sentenced for penalties for buying and selling software during the politically sensitive period of the authorities. Deng Jiewei, a native of Dongguan, was sentenced by the authorities to nine months imprisonment for trafficking in broken nets.
In September 2017, the coffee router produced by Shenzhen Mlink Technology Information Technology Co., Ltd. broke the software and ordered to stop the service. The company's responsible person was investigated. The cause of the incident was the user of the company's Jiangsu or Zhejiang provinces. It published several reports of attacks involving China on overseas websites that were reported. In the police investigation, it was discovered that the company's connection services allowed users to make such statements abroad.
In early 2017, the Ministry of Industry and Information Technology of the People's Republic of China issued a notice of rectification, announcing that all basic telecom companies and internet access service companies could not build or rent private lines including virtual private network VPNs to conduct cross-border business operations without approval.
Expert: Plugging Is Unwise
At the recent academic meeting of the two academicians held in Beijing, many academicians complained that strict cyber blockades are not good for scientific researchers. The requesting authorities gave special convenience to those engaged in scientific research and discriminated against pure academic websites.
The Science Network hosted by the China Science Journal reported yesterday that at a meeting of the academicians of the two academicians, a gray-haired academician said: "Strict network supervision is a loss to those who engage in scientific research. It is very big. Though some foreign websites, we can understand what many advanced countries in science and technology are doing, and where they have turned scientific research into results. So, is it possible to give people with scientific research a bit of special convenience?" Another academician said, "Without comparison and knowledge, we want to walk ahead of the world's technological development. We want to lead the world. I think it is very difficult."
There are too many obstacles to adversely affect the country's image.
Academicians believe that too many information barriers are not only detrimental to the development of science but are also detrimental to the country's image; they request the government to discriminate against purely academic websites that do not involve sensitive content that endangers national security and subverts the content of state power.
In June 2016, the former PLA People's Liberation Army Second Artillery Corps Lieutenant General Cheng Baoshan publicly attacked China's cyber-blockade policy at the "2016 Military Cultural Theme Forum" held at Xiangshan Hotel. Cheng Baoshan said,
You can see now. Diminishing, avoiding, blocking, and rejecting the Internet means backwardness and passive behavior.
The materialistic concept of history tells us that biological competition and the survival of the fittest are unwise for all advanced technologies. The result is that it must be blocked and prevented.
Summary
Article Name
China Tightening Internet Curb
Description
In December 2017, Wu Xiangyang, a network engineer in Guangxi, was arrested and sentenced by the Chinese authorities for selling equipment that could break the Chinese government's notorious Great Fire Wall a.k.a GFW. It represented China tightening internet curb again in a more extreme way.
https://whoisfuckedinchina.com/wp-content/uploads/2018/04/internet-curb/China Tightening Internet Curb.jpg
686
1030
lighting
https://whoisfuckedinchina.com/wp-content/uploads/2018/02/Website-Title-logo-450-373.png
lighting
2018-04-05 16:01:10
2018-04-05 16:01:10
China Tightening Internet Curb