The Shameless Company Baidu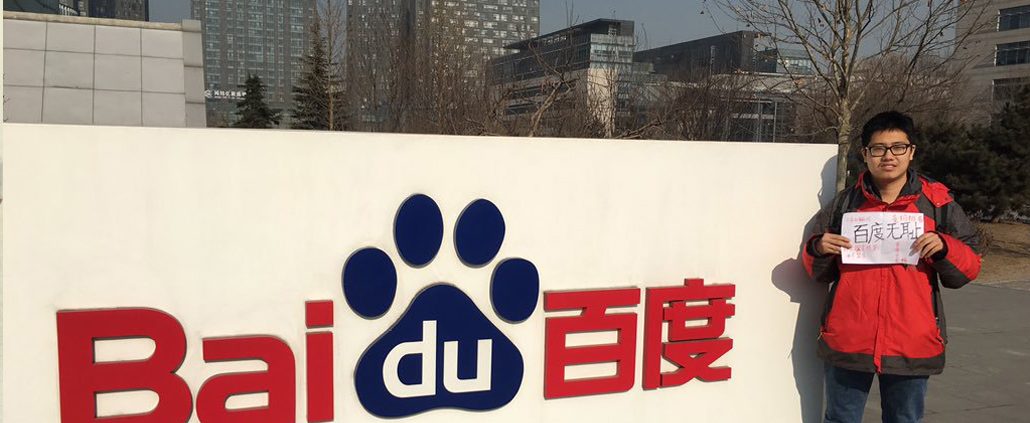 On March 26, 2018, Li Yanhong, the chairman, and CEO of Baidu, said at the China Development High-Level Forum: "Chinese people are more open and less sensitive to privacy. In many cases, they are willing to exchange their privacy for convenience and efficiency.", which exposed the shameless company baidu doesn't have even a slice care about users' privacy.

Li Yanhong's statement caused uproars from Chinese Internet users. It even attracted criticism from the mainstream media. Many netizens said that Baidu did not respect the rights of internet users.
You Can't Actually Be Anonymous On the Internet
The rise of most Internet companies in China have benefited from the basic exclusion of foreign competitors and asymmetric power relations, and the natural Matthew effect of the Internet has strengthened its status as well as consolidating the first two basic reasons.
Speaking of asymmetric power relations, there are no corresponding means of protection and punishment on the other side. While asking the user to allow private access, there is no corresponding control method.
Almost all Internet companies could access to user's information on the terms. As for ticket booking platforms and online forums, leaking user information was a commonplace reality. The websites would eventually apologize at the end of the day. But they wouldn't do anything to fix the issues.
Let's talk about Internet monopolies. Under the Matthew effect, the Internet naturally tends to slide toward monopoly. This is not necessarily a bad thing. The advantages of economies of scale and ecological chains can increase social benefits. However, when there are only one or two oligarchs in the final market, not only is the consumer's choice of rights severely restricted but are almost tangible activities on the Internet are constrained by several Internet companies.
Some people on the Internet have said that this was also true internationally. This is a common phenomenon. However, monopolies that come about from a lack of restrictions and monopolies restricted by law and public opinion are not the same thing at all. From the recent example of FACEBOOK, this can be seen very clearly.
Rethinking that many years ago, the Internet was seen as a tool to break the barriers to interest. People did not expect that, with the growth of Internet companies, they have consolidated into new interests and become integrated with existing interests.
CCTV also published its commentary on this point of view. "'The Chinese are willing to use privacy for convenience,': Li Yanhong's remarks triggered a rebound in public opinion, and it was not unexpected. However, Baidu chose to be in a bad mood on Facebook, a brow it was a bit of a surprise to say such things at the time. What people are most afraid of is not Li Yanhong saying the wrong thing on the stormy tip of the storm, but telling the truth. This is a tech giant that ignores the core interests of users and ultimately divulges."
Li Yanhong's speech once again made Baidu a target of public criticism. In fact, Baidu's repeated negative news in the past has been controversial.
PPC – The Beginning of the Dispute
In 2008, Baidu was exposed by the media for advertising products which paid to be at the top of search results. Some users complained that they couldn't distinguish advertisements from the results they were looking for.
Baidu also tried to embed commercials in internet user communities. Baidu Post Bar was an online service provided by Baidu. It allowed users to set up their own groups (called Post Bars) based on their interests.
Some post bar users claimed that they had been co-founders of the Baidu Post Bar named "Bleeder Disease Group". In the post bar, patients with bleeder disease could encourage each other to overcome the disease. Recently, however, a hemophilia expert who claimed to be the professor of Shanxi Medical University's Institute of Hemophilia, Professor Liu Xia has become the owner. After the Bleeder Disease Group was sold, a netizen pointed out that post bars about Parkinson's, cerebral palsy, onychomycosis, and dental health were also involved in commercial cooperation.
According to the report of China daily, a user with the nickname "Magical" said that about 5,000 netizens use the online community to discuss and share effective treatments for hemophilia on Baidu Post Bars, which meant selling online communities to private hospitals poses hidden risks and may affect the lives of patients.
Baidu can easily help companies conduct marketing because they occupied the Chinese online search market. Medical advertising was the main force of Baidu.
It was reported that Baidu Post Bar had about 19 million online communities to discuss various topics and more than 1 billion registered users. There was an online discussion group on disease-related issues. Baidu had not announced it.
After the incident was exposed, the Internet users were upset about Baidu's commercial operation and management confusion. Some of the search results were unfair and objective, violent, terrorism-related and other harmful information. Baidu's stock price was also the most significant impact ever.
Wei Zexi's Death Brought Baidu Reputation to the Freezing Point
In April 2016, Wei Zexi and his family members received unapproved and unconfirmed treatment methods in the second hospital of the Beijing Armed Police Corps recommended by Baidu. The fraud delayed Wei Zexi's treatment and eventually, on April 12, 2016, he passed away. The incident then began to heat up during the May holiday, causing Baidu's stock to plummet. The Chinese media, including the official media, also criticized this issue. In addition to Baidu's listing as a related suspect, the incident was delayed until the hospital's outdoor branch was assigned to the Putian Department. The incident was also disclosed. The company was delisted and the relevant person in charge was sued.
According to the report of Xinhua.net, the treatment, which uses cells generated by the patient's immune system to counter the illness, cost the Wei family around 200,000 yuan (about 31,150 U.S. dollars). It was unsuccessful, and Wei died on April 12.
"Baidu, we did not know how much evil it could do," Wei wrote in February this year on question-and-answer website Zhihu, the Chinese equivalent of Quora.
His accusations have now put Internet giant Baidu under fire with angry netizens blaming the search engine for not checking the credentials of advertisers.
"It (Baidu) makes money by taking lives," one netizen commented under Wei's final post on his Weibo account.
Another Weibo user wrote, "May there be no more cheating in heaven."
Baidu on Sunday said on its Weibo account that it had filed a request for the hospital to be investigated and that it would "fully support Zexi's family should the investigation confirm malpractice at the hospital."
"We deeply regretted the death of Zexi. May Zexi rest in peace," the company said in an earlier statement.
A search for synovial sarcoma on Baidu does not seem to return links related to the hospital in question anymore.
Like other search engines, Baidu earns money from selling links that appear in search results. The more an advertiser pays, the higher its ads will be ranked in the search results.
This is not the first time that Baidu has been accused of being unethical.
Earlier this year, the search engine was blamed for selling the management rights for a post bar about bleeding disease to a fraud private hospital. The hospital used the post bar for self-promotion. It also deleted comments that questioned its credentials.
"ytytytyt", a Zhihu user who researched Baidu post bar ownership was quoted in a January Xinhua report as saying that nearly 40 percents of disease-related communities are sold to unethical private health organizations, fraudsters, and lawbreakers.
After the incident was exposed, public opinion condemned Baidu and the Armed Police Hospital. Baidu Company issued a statement saying that the hospital in question was a top-three hospital and also provided relevant qualification certificates to Baidu. However, there are many media reports that the Beijing Second Hospital of Armed Police is a publicly-owned top-three hospital. However, the background of its cancer biological treatment center is complex, and it is closely related to the Putian Department of Medical Care. However, according to Sohu.com, the staff of the People's Armed Police Office of the Beijing Second People's Hospital stated that its cancer biological treatment center remains under the management of the hospital.
According to the report of VOA, Baidu has quickly become the largest search engine in the Chinese market since Google withdrew from China in 2009, becoming the direct route for most Chinese Internet users who will not "scale the wall" to obtain information. Such an influential medium has also become an authoritative source of information for many ordinary people. Baidu also uses its "authority" to launch a series of "plus V" and "certification" services. If a company wants to increase its official website's certification through Baidu's V certification, it needs to pay Baidu several hundred to several thousand yuan. If you want to advertise on Baidu, you need to bid with other companies, the higher the bid, the further toward the front your search results will be ranked. As for the company's qualifications and relevance to search keywords, Baidu did not do much verification.
Software Flow
In the second half of 2015, the cloud vulnerability platform revealed that Baidu's large number of software would be maliciously implanted in the user's mobile phone, causing strong reactions from Chinese Internet users, who expressed dissatisfaction with Baidu's preinstalled, induced download and other actions. According to Sohu's report, Baidu passed ROM Equipment, APP to induce downloads and other means to promote the market share of product promotion methods, but also so that as many as 30 products were affected by loopholes, and focus on security issues broke out to the point where many users were disappointed. Some netizens dubbed Baidu's pre-installed software the "Baidu Family Bucket."
The blog writer Yang Xia believes: "The essence is bundled promotion, and another (batch) software is installed by a software "recommendation" user. This is the most typical, most common, and most effective software promotion method in the PC Internet era. Popular software, such as Storm, Thunder, 360 anti-viruses, Tencent Department of products, etc., also use this method. In the era of PC software, it is not difficult to increase hundreds of thousands or even millions of users by bundling and switching. Datang's new products can easily get enough startup users. "
Experts: Breaking The Monopoly is the Only Way to Regain Human Heart
From the Wei Xixi incident to Li Yanhong's remarks, Chinese netizens' acceptance of Baidu has continued to decline, and current commentator Xiao Yuhen believes that after Google's withdrawal from the Chinese market, Baidu has become a market monopolist, leaving users with a lack of alternative choices.
"Even if Baidu is now referring to you as a public enemy, what's the difference? Can you still refuse to use it? You are used to using it." At the same time, he also pointed out that the current Internet companies in China are highly communicative. It is the de facto media. However, to avoid risks, Internet technology companies are self-policing. In fact, it is to circumvent China's stringent news dissemination management. Internet companies take the path of marketization. If they are the determinators of de facto Internet rules, then their management will be an inherent loss of blood. We must rise to the height of anti-monopoly, regulate large-scale Internet companies such as Baidu, and force them to open a way out so that other companies also have the space and possibility of challenge. Otherwise, it is not only harmful to the innovation and development of Internet companies but also unfavorable to the market as a whole.
Summary
Article Name
The shameless company Baidu
Description
On March 26, 2018, Li Yanhong, the chairman, and CEO of Baidu, had a speech which exposed the shameless company Baidu doesn't have even a slice care about users' privacy at the China Development High-Level Forum.
https://whoisfuckedinchina.com/wp-content/uploads/2018/04/baidu/shameless baidu.jpg
686
1030
lighting
https://whoisfuckedinchina.com/wp-content/uploads/2018/02/Website-Title-logo-450-373.png
lighting
2018-04-11 14:27:15
2018-04-11 14:35:18
The Shameless Company Baidu