The Death of Nei Han Duan Zi – Creating a "Clean" Internet Environment?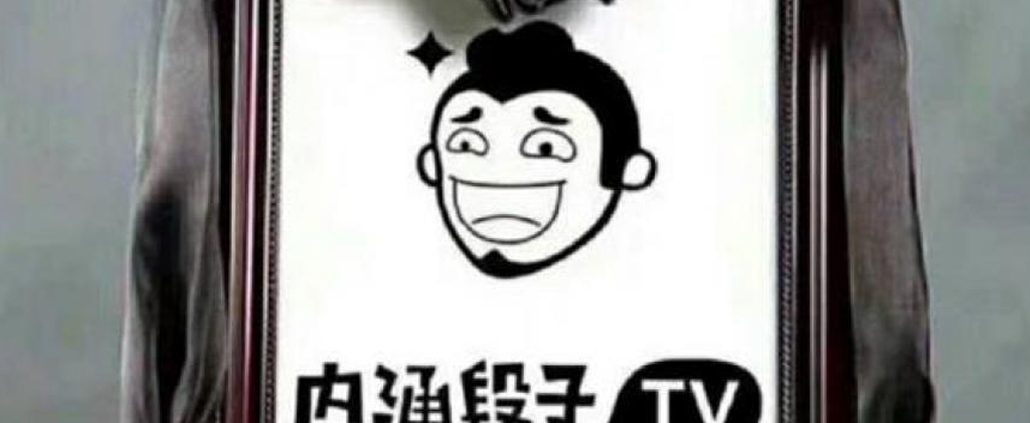 Yuxuan had a sticker on the back window of his car: a smirking cartoon face with four Chinese characters "Nei Han Duan Zi" underneath. Today we will happen to tell the story of the death of Nei Han Duan Zi.
"Nei Han Duan Zi" was one of the most popular smartphone apps in China in recent years. "Nei Han Duan Zi" is a Chinese term for innuendo. On this app, people can read, share, comment on the jokes, funny pictures and videos, and humor.

Nei Han Duan Zi was developed by a Beijing Internet company "Bytedance". Bytedance is also the mother company of another four popular smartphone apps "Jinri Toutiao" (Daily Headlines), "Xigua Xiaoshipin" (Watermelon Video Clip), "Huoshan Xiaoshipin"(Volcano Video Clip) and "Douyin" (A platform for video and music sharing).
"The car sticker showed that I was a loyal user of the app." Yuxuan explained, "Other users would immediately know that I was one of them."
Launched in August 2012, Nei Han Duan Zi had 200 million users by the end of the year 2017. If you paid attention, you would see many similar car stickers in China. "Beep—beep beep, this was our special way to communicate." One long honk followed by two short honks, Nei Han Duan Zi users would do it when they saw another car with the same sticker.
"It made me feel like I belong to somewhere." said Yuxuan, "The Nei Han Duan Zi fans even built up a fan association based in my city. All the members were willing to volunteer to help those in need.
When I heard the 'beep—beep beep' when I drove, I would honk back. It felt like I had found an old friend on the street. Nei Han Duan Zi not only brought me joy but also united us together like best friends.
What Yuxuan didn't expect at that point was that "Beep—beep beep" would become something more than a special way of communicating.
Timeline of the Crackdown
March 31st, 2018, Live News of CCTV officially criticized Douyin App for spreading unhealthy contents. Live News also blamed Douyin for spreading the videos about making and selling counterfeit products.
Later, Live News and Oriental Horizon (another news program of CCTV) also criticized the Xigua Xiaoshipin and Kuai Shou (a live stream smartphone app which was popular in China) for promoting inappropriate contents such as teenager moms and underage pregnancy, which "mislead the development of teenagers".
A few days after the news, Huoshan Xiaoshipin had been pulled from Android app store for 7 days. The front page of the app can't be loaded in the meantime.
April 9th, the authorities requested Jinri Toutiao and another three news apps to be pulled from the apple app store and Android app store.
The next day, Nei Han Duan Zi was ordered to be shut down permanently, along with its official Wechat account. The authorities requested the mother company of Nei Han Duan Zi to learn the lesson. They also appealed for a thoroughly "clean-up" for the other video sharing smartphone apps. In the same day, Jinri Toutiao announced that Nei Han Duan Zi would be shut down permanently as ordered. The company would learn from it and run a more strict censorship over the contents.
A Phone App's Funeral
April 10th, 2018 was unforgettable for many Nei Han Duan Zi fans. On that day, the app was officially shut down by the authorities along with its official Wechat account.
In many ways, fans of Nei Han Duan Zi started to show their attitudes towards the shutdown of their favorite phone app.
Some of them made pictures, GIFs and videos to show their dissatisfaction. An animated video of the "funeral" for Nei Han Duan Zi had been trending on the internet. It had soon been taken off from Chinese video sharing sites. Now people can only watch it on Youtube.
"Beep—Beep, Beep"
However, some fans didn't want to hide behind phone screens anymore. They chose to walk out and have their voices heard by the authorities.
Early morning of April 11, a few hours after the shutdown of Nei Han Duan Zi, many Nei Han Duan Zi fans in Beijing started a protest in front of the State Administration of Radio and Television in Xicheng district. Hundreds of cars parked in front of the building and they honked "beep—beep, beep" to show their dissatisfaction with the decision.
According to some internet users' update, there were more than 700 cars participating in the protest by 9 a.m. on April 11. The Nei Han Duan Zi fans requested a proper explanation of the shutdown from the SARFT.
From the videos uploaded by internet users, the memorial activities protests about the shutdown of Nei Han Duan Zi soon became nationwide. In the videos, some protesters turn on the flashlights of their phones and waving them up high, while singing a song called "Zai Ren Jian" (In the World). Some of them made long banners with words "Duanzi Fans are like family. Duanzi Fans will help each other out of anything". They ran down the streets waving the flags and banners, shouting slogans to support each other.
Most of the Nei Han Duan Zi fans still chose to drive their cars out to the street. By following the lead, hundreds even thousands of the cars honked "beep—beep, beep" as one. They wanted their voices to be heard by somebody eventually.
The forces were at the weaker position this time. In Kunshan City, Jiangsu Province, when the police tried to shout to them that the protests and gatherings were "illegal", people laughed at them and continued the activities. Based on the news, internet police of Jiangsu Province reminded Duanzi Fans that honking in a "no horn" area will be fined. In Xi'an City, Qingdao City, some Duanzi Fans were fined for honking. They were also asked to remove the Nei Han Duan Zi stickers.
Supports from the Internet
Some protesters even called the government "immoral" during the protests. Many internet users praised their courage online. "The government who uses violence and lies to rule the people is immoral." Said a Weibo user. Another internet user named "Lan Bo Yi" said, "their actions reminded me of what happened on the Tian'anmen Square in the Year 1989."
The Nei Han Duan Zi fans definitely showed their braveness and attitudes in the events. A Weibo user named "Shelken" said, "Many people said protesting in front of SARFT was reckless. However, if you think about it carefully, those who kept saying to people 'don't do it', aren't they already getting used to being taken away their freedoms of speech? Aren't they facing everything in obedience?"
"Ordinary Chinese people have already been stressed by the home mortgages, education, and medical expenses. When they go out to get some fresh air, the smog is everywhere. When they turn on the television, they can only watch Xinwen Lianbo (the official daily news of mainland China). When they walk into the movie theater, the hottest movie is 'Amazing China'. When they want to read Nei Han Duan Zi to relieve some pressures, the communist party shut it down. It was them who pushed the stressful people to the streets."
Even in Duanzi fans showed their support to the protests. A Weibo user named "Li Mengjie Andromeda" said. "I'm not a Duanzi fan myself. I learned about this app because of the shutdown. For real, the SARFT made a great advertisement for you guys. And I just noticed that there were so many awesome people near me. I feel warm inside."
A Weibo user named "Ziyou Qianyi" said, "I have never been on Nei Han Duan Zi. However, I could understand why the Duanzi fans were so angry. A few years ago, the SARFT pulled some of my favorite American TV shows from the internet for ridiculous reasons. They were so arrogant, and their stupid bureaucratic actions trod on our daily life. They put their self-approbation tags everywhere in ordinary people's living spaces. But I believe, after everything they have done, there will be people waking up and standing against them. They will be hosted by their own petard one day."
Most of the relevant comments and posts on Weibo regarding the protests were deleted.
Why did Nei Han Duan Zi draw the government's attention?
"Douyin Duanshipin" (Douyin short videos) is another smartphone app developed by Beijing Bytedance (the mother company of Nei Han Duan Zi). After being criticized by CCTV, Doujin pauses the comment function of the app for a few days. At noon on April 11, Douyin officially announced that "for the purpose of providing our users better services, Douyin is working on upgrading the system. During the upgrade, live stream and comment functions will be suspended. They will be back online once the upgrading is done."
"We will higher the standards of content censorship and strength the management of the platform. We will try to keep a positive, healthy environment and content pool for our users." Douyin officials declared in their announcement. "We will try our best to make this platform the one for spreading positive energies and proper values. We wish our platform can be the one which records the great new age and people's happy lives."
After a few days, live stream and comment were back to normal. People once again can share their dancing videos, cute pets and hilarious life moments on Douyin.
Kuaishou Live Stream was another phone app criticized by CCTV. However, Kuaishou seemed to have a bad reputation among internet users for promoting teenager moms and dangerous actions (such as eating raw meat and drinking a big amount of alcohol beverages). Kuaishou didn't receive too many sympathies from the internet. But it didn't make it less popular in China. "It didn't surprise me that Kuaishou was criticized by the government." said Zhihu user "Su Yang". "Kuaishou is like a piece of rotten meat covered by fancy silk clothes. Being pregnant in at 14 years old? Swollen glasses? The platform is trying to make ridiculous things look normal. It should be stopped."
A phone app which allowed people to post and sharing jokes and funny pictures seemed harmless. However, Nei Han Duan Zi became the only "decedent" of the crackdown.
Some analysts said the Duanzi fans had already built up their own circle. In this circle, young generations were the majority. "Duanzi Fan Groups" were based on most of the prefecture-level cities. The fans developed their own code word system and symbols. The organization scared the government. These were the true reasons of why Nei Han Duan Zi got shut down.
Was People's Voice Heard by the Government?
When the event was trending on overseas Chinese websites, a picture of "SARFT withdrew the decision of banning Nei Han Duan Zi" was posted on many websites.
However, some observers questioned the authenticity of the picture. "The wording and sentences structures don't look like the other notifications from the Communist Party of China. The date and official stamp also looked suspicious. It could just be a joke made by some internet users."
Also, people noticed that Nei Han Duan Zi hasn't vanished entirely. Some contents went to Baidu Post Bar "Duanzi Fan's Home". Some fans set up Wechat official account "Neihan Home" which already had 170 thousand subscribers.
"This is a generation who isn't interested in politics, but grew up with video games. They don't care too much about the reality. But entertainments are important to them."An internet user named "Andre" said it on rfi.fr. "They can ban that platform. But they cannot ban the thoughts of people."
Summary
Article Name
the death of Nei Han Duan Zi
Description
"Nei Han Duan Zi" is a Chinese term for innuendo. On this app, people can read, share, comment on the jokes, funny pictures and videos, and humor. However, Today we will tell the story of the death of Nei Han Duan Zi.
https://whoisfuckedinchina.com/wp-content/uploads/2018/04/neihanduanzi/the death of neihanduanzi.jpg
686
1030
lighting
https://whoisfuckedinchina.com/wp-content/uploads/2018/02/Website-Title-logo-450-373.png
lighting
2018-04-19 17:28:01
2018-04-19 17:31:04
The Death of Nei Han Duan Zi – Creating a "Clean" Internet Environment?